Dear friends,
                    I hope this finds you all in good health and with the desire to enjoy the summer that is approaching fast.
My proposal for this summer quarter is linked to freshness and I have in fact chosen three wines among all those that are produced here at Villa Calcinaia that have this quality as a common denominator.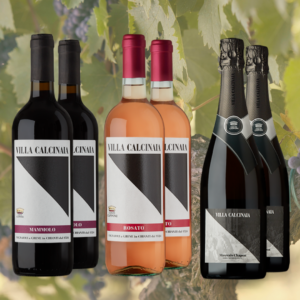 The first wine I would like to present to you is the Villa Calcinaia Rosato produced from Canaiolo Nero grapes, which Pier de Crescenzi (1805) defined as "beautiful grapes to keep" and which Villifranchi (1773) indicated as the ideal companion of Sangiovese for the production of Chianti. The grapes for the production of the Villa Calcinaia Rosato are manually harvested grapes from the vineyard known as Vigna San Piero al Pino about three weeks before their full maturity in order to keep the alcohol content low and the acidity level high. After a soft draining in the press, the must is vinified in stainless steel tanks. Lively, bright and refreshing. Medium-bodied, well balanced with good acidity. Ripe blood orange and grapefruit aromas with a hint of herbs. On the palate, red fruit and citrus with a long tingly finish. Very versatile and food friendly. Excellent for example with cured meats as it is not very tannic; the low level of tannins combines well with all dishes made with raw meat such as tartare and carpaccio.
L'altera porpora,
Che in Monterappoli
Da' neri grappoli
Sì bella spremesi;
E la maritino
Col dolce Mammolo,
Che colà imbottasi
Thus Redi describes in his famous poem "Bacchus in Tuscany" the grape variety which is the main character of the second wine that I would like to present to you today: Mammolo is a rare and ancient black grape variety cultivated in central Italy. Always present alongside the Sangiovese and Canaiolo, Mammolo is still sporadically widespread in the old Tuscan vineyards and has been for a long time animportant part of the typical blend of the best Nobile di Montepulciano wines, alas recently replaced by other allochthonous varietals. The name comes from the distinctive aroma of violet that characterizes its wine. Ruby red, floral nose with typical hints of violet. When the weather is hot and low alcohol wines are preferred, Mammolo can be an excellent alternative to whites and roses of Tuscany. Generous varietal which produces wines with high acidity but with low tannic content, the Villa Calcinaia Mammolo is certainly suitable for pairing with cured meats but also for example with fish soups especially if slightly spicy.
Erano Francesco Valori, Piero Capponi, Braccio Martelli e parecchi altri cittadini
deputati a praticare col re e sendo in sul formare le composizioni, portarono al re una bozza dei capitoli, nei quali la città sarebbe convenuta;e non gli piacendo, lui dette un'altra bozza, secondo la quale voleva farsi lo accordo; dove sendo cose molto disoneste, Piero Capponi presala, animosissimamente la stracciò in presenza del re, soggiungendo che poi che e' non voleva accordarsi, le cose si terminerebbero altrimenti, e che lui sonerebbe le trombe, e noi le campane;….
Finalmente doppo molti dibattiti, si fece conclusione con lui a dì…dicembre1494.


Thus wrote Francesco Guicciardini about the famous confrontation between my ancestor Piero Capponi and the King of France Charles VIII, an episode that was the inspiring motif of today's third wine: Villa Calcinaia Mauvais Chapon. The name in fact derives from a interesting throwback to this famous episode which we get from Jacopo Nardi's Florentine Histories: how the king of France, after Piero had torn the agreement and was about to leave the room, called him back and smiling he addressed him with the phrase "Chapon, Chapon, vous etes un Mauvais Chapon", playing on the meaning of the surname of our family. The king's familiarity with Piero stemmed from the fact that my ancestor had been ambassador of the Florentine Republic to France and had had the opportunity to get to know the sovereign while exercising his diplomatic mandate.
The Villa Calcinaia Mauvais Chapon is a traditional method sparkling vintage wine whose Sangiovese originates on the slopes of the left side of the Val di Greve where there are a few particularly cool valleys. When Sangiovese from these small passes is harvested very early, it's youthful, aromatic vivacity is captured, and we have the perfect foundation for a sparkling wine. Only free run juice from the first whole-cluster pressing is used. This approach is atypical for Sangiovese,but is critical to achieve elegance.
The Villa Calcinaia Mauvais Chapon possesses refined aromatics and bright, pure flavors framed by playful acidity and tiny, elegant bubbles in this distinctive, sparkling wine.
It is an ideal companion to fish dishes, from sushi to fried calamari or shrimp. It is also recommended with grilled fish, and will counter the sometimes slightly bitter notes from open fire cooking.

May I take this opportunity to renew my thanks and I look forward to seeing you all soon at Villa Calcinaia!